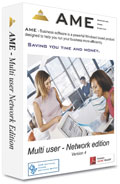 ERP & MRP Software – AME Multi User Edition
More Info: AME – Multi User
Time and attendance systems
Our time and attendance systems comprise of a card / fob reader and a software program. The software is Windows based and runs on any standard PC. Employees simply touch their card or fob to the reader to clock on or off. All clockings are recorded in a database enabling detailed reports. The time and attendance system can be used on it's own, or can link to our ERP / MRP systems.
Motor trade software
GMS have a range of products specially for the motor trade. Garage management software, Bodyshop management software and time management software. For more details please visit our motor trade software website http://www.motortradesoftware.net
Time management & recording software
Our time management system records the time employees spend on jobs and stages. It can be used with our ERP software and MRP software and also with our motor trade software. Technicians log onto and off of jobs and stages via a shop floor based PC, using a variety of methods, our system supports touch screen monitors, RFID (smart cards or fobs) and barcoded job sheets. It can also be used for time and attendance recording. All events are captured and stored in a central on premises database and may be viewed by management. Extensive reporting facilities show time spent on specific jobs or stages, total hours etc.
Microsoft Windows
Our company is featured in Microsoft's directory (https://developer.microsoft.com/en-us/windows/ready-for-windows/) of Windows 10 software providers.
Windows 10 Support Statement
AME Multi User Edition is supported by GMS Software on the following editions of Windows 10 – Windows 10 Home, Windows 10 Pro, Windows 10 Enterprise and is supported on the following servicing branches of Windows 10 – Current Branch (CB), Current Branch for Business (CBB)
Technical Support
Customers can expect to work with our excellent team of Support Engineers (or System Integrators) who will ensure that AME Multi User Edition is installed and packaged to suit the needs of your business. Customers can find out more information about our technical support services by going to www.gms-software.net/support